HELPING YOU SUPPORT YOUR ROSACEA PATIENTS
We're here to guide you and your patients through our financial assistance program, designed to help support those in need throughout their rosacea journey. We've included the eligibility requirements below, so no matter your patients' circumstances, you can help them start saving today
GALDERMA CARECONNECT CARD
Designed for patient access
Don't allow cost to be a barrier to safe and effective treatment
Specifically designed for rosacea, ORACEA® (doxycycline, USP) 40 mg* Capsules are the only FDA-approved oral treatment for papulopustular rosacea1
They are also available as an authorized generic, to help make treatment more affordable for your patients†
With the Galderma CAREConnect Card, the prescriptions you write are easily filled by pharmacies, and commercially insured patients may pay less out of pocket†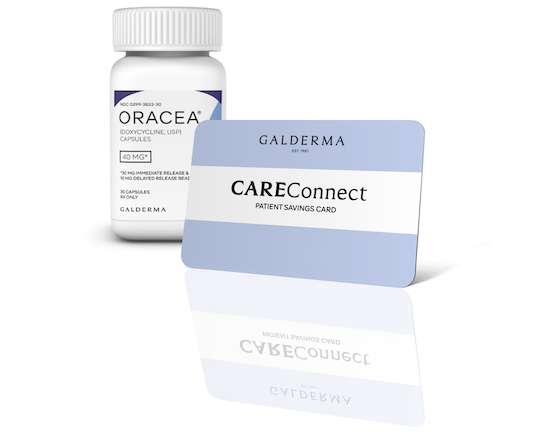 *30 mg immediate release and 10 mg delayed release beads
†Galderma CAREConnect is only available for commercially insured or uninsured patients. Patients who are enrolled in a government-run or
government-sponsored healthcare plan with a pharmacy benefit are not eligible to use the Galderma CAREConnect Patient Savings Card 
AFFORDABLE TREATMENT
Help your rosacea patients start saving
Through Galderma CAREConnect, saving is remarkably easy. Simply direct your commercially insured patients to www.galdermacc.com, where they can download their very own Patient Savings Card and may pay as little as $0 on some Galderma prescription products†
Patients pay†
Commercially 
unrestricted‡
$0
Commercially
restricted or
cash pay
$60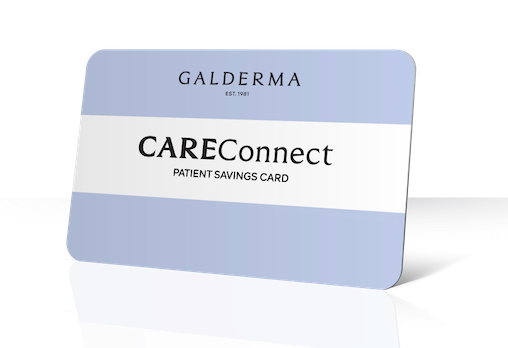 No activation is required, and the Patient Savings Card can be used at any participating pharmacy
†Galderma CAREConnect is only available for commercially insured or uninsured patients. Patients who are enrolled in a government-run or government-sponsored healthcare plan with a pharmacy benefit are not eligible to use the Galderma CAREConnect Patient Savings Card
‡'Commercially Unrestricted' refers to a payment by a patient that has commercial coverage (excludes all government programs) through a pharmaceutical benefit plan and a specific product has no restrictions (PA, Step Edit, NDC block, HDHP) 
FAQS
Frequently Asked Questions
Will all my patients pay the same copay amount?
No, copay amounts are based on patients' insurance coverage. There are two categories of copay amounts – commercially unrestricted and uninsured payments
What does "commercially unrestricted" mean?
"Commercially Unrestricted" refers to a payment by a patient that has commercial coverage (excludes all government programs) through a pharmaceutical benefit plan and a specific product that has no restrictions (Prior Authorization, Step Edit, NDC Block, High-Deductible Health Plans). These patients are eligible for a copay as little as $0, depending on the product
What does "uninsured payment" mean?
"Uninsured Payment" refers to a payment by a patient with a commercial pharmaceutical benefit plan that restricts or denies (PA, Step Edit, NDC Block, HDHP) access to a specific product, or to a patient who has no pharmaceutical benefit plan. For generic-only plans or when patients encounter plan exclusions, the pharmacy will either receive a "step edit required" or "prior authorization required" message. If the pharmacy does not receive either one of these notices and the drug is not covered, the prescription will process at the "uninsured payment" rate. The uninsured patient rate is $60
What about my Medicare patients? Are they covered?
Galderma CAREConnect is only available for commercially insured or uninsured patients. Patients who are enrolled in a government-run or government-sponsored healthcare plan with a pharmacy benefit (e.g. Medicare, Medicaid, Veterans Affairs, Department of Defense, TriCare) are not eligible to use the Galderma CAREConnect Patient Savings Card
Can a patient take their prescription and the Galderma CAREConnect Patient Savings Card to any pharmacy?
Yes, the Galderma CAREConnect Patient Savings Card may be used at any participating pharmacy located in the United States. Based on reimbursement policies of some major retail chains, a patient may be asked to pay more than the quoted copay at those pharmacies. Note: If the patient uses a pharmacy in our independent network, they will not need a physical copay card with their prescription
What happens if the patient needs a prior authorization or step edit?
A "prior authorization" requires paperwork to be completed and submitted to the pharmaceutical benefit plan. A "step edit" usually requires documentation in the patient file of previous failures on specific medications. The prescriber and staff can work with the pharmacist to process the applicable requirements of a step edit or prior authorization. When this is done, and if the prior authorization has been approved, the patient should be eligible for the "Commercially Unrestricted" benefit ($0). The Galderma CAREConnect program will not remove the need to process prior authorizations or step edits to obtain the $0 benefit. Galderma encourages the processing of step edits or prior authorizations because this helps utilize a patient's insurance benefit and helps Galderma negotiate for future coverage with managed care plans
What you can do to help the Galderma CAREConnect Program run smoothly for your patients?
The Galderma CAREConnect Patient Savings Card is accepted at any participating pharmacy. If you're sending the patient to a retail pharmacy, provide him/her with a physical copay card or encourage them to download their own copay card at galdermacc.com. For any card questions or issues please encourage your patients to call: 855-280-0543
Sign up and
stay up-to-date
For the latest news, research, and insights into papulopustular rosacea, subscribe now! You'll also receive patient resources and toolkits, helping you treat your patients throughout their rosacea journey
Important Safety Information
Indication: ORACEA® (doxycycline) 40 mg* capsules are indicated for the treatment of only inflammatory lesions (papules and pustules) of rosacea in adult patients. ORACEA does not lessen the facial redness caused by rosacea. Adverse Events: In controlled clinical studies, the most commonly reported adverse events (>2%) in subjects treated with ORACEA were nasopharyngitis, diarrhea, hypertension and sinusitis. Warnings/Precautions: ORACEA should not be used to treat or prevent infections. ORACEA should not be taken by patients who have a known hypersensitivity to doxycycline or other tetracyclines. ORACEA should not be taken during pregnancy, by nursing mothers, or during tooth development (up to the age of 8 years) and may cause reversible inhibition of bone growth. If Clostridium difficile associated diarrhea (CDAD) occurs, may need to discontinue ORACEA. Although photosensitivity was not observed in clinical trials, ORACEA patients should minimize or avoid exposure to natural or artificial sunlight. The efficacy of ORACEA treatment beyond 16 weeks and safety beyond 9 months have not been established.
You are encouraged to report negative side effects of prescription drugs to the FDA. Visit www.fda.gov/medwatch or call 1-800-FDA-1088.
*30 mg immediate release and 10 mg delayed release beads
REFERENCES
1. ORACEA [package insert]. Fort Worth, TX: Galderma Laboratories, L.P.; 2014